Who We Are
We are a results-driven company dedicated towards delivering competitive advantage through the innovative use of technology. We employ some of the world's best engineers, experts in their fields. We believe that by employing the very best, we offer our clients real value by delivering top class Services.
What We Do
We specialize in highly productive, cost-effective outsourcing solutions for Software Projects. Our services rendered towards Operating System Migrations, Desktop/Server Administration and Virtualization is designed to achieve strategic business objectives and streamline the entire Desktop and User Management processes for the Enterprise. We believe in identifying the needs of the Enterprise and then follow a disciplined course of action to provide them with optimum solution.
Experience Certainty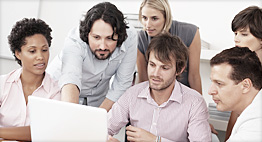 So what is the real deal? With Radius, you as a client will never have to read through the fine prints again. We deliver what you are promised. It is like working with a partner you can trust to provide the insight and support even before the wheels are pushed. We assess the feasibility beforehand which means you know upfront, how to scale the deliverables. With us you can always count on the results.
The Real Agenda
We do what we believe in.
The Radius Advantage
Why Radius? We do more than just being a services vendor and supplier. We will be your strategic business partner. We help you in lowering the cost of operations, in order to thrive in a challenging business environment. We provide a competitive edge by offering superior, reliable and cost-effective services, while complying with regulatory initiatives. We build our teams around your domain and technology requirements, offering specialized services and solutions that meet the distinct needs of your business.
Value-driven Governance
We are at home with fair, transparent and value-driven corporate governance. We believe in ethical business. We have a strict code of conduct towards our clients and suppliers. We believe in mutual respect and growth.
We also believe that our strength from our team and so we encourage our employees' to grow in their careers by providing technical and monitory support towards higher education and certifications.
Our History
Radius happened when a team of highly adept professionals materialized their zeal for doing something more than usual by empowering innovative thought process. Our journey towards excellence started in 2007 with a vision of uniting the entire community of IT professionals who wanted to soar higher with the technology and facilitate mutual growth at work. We have been growing in number and commendation since our establishment our focus still zeroing in on our driving principles.